We Send Chilled Semen Across the UK and Worldwide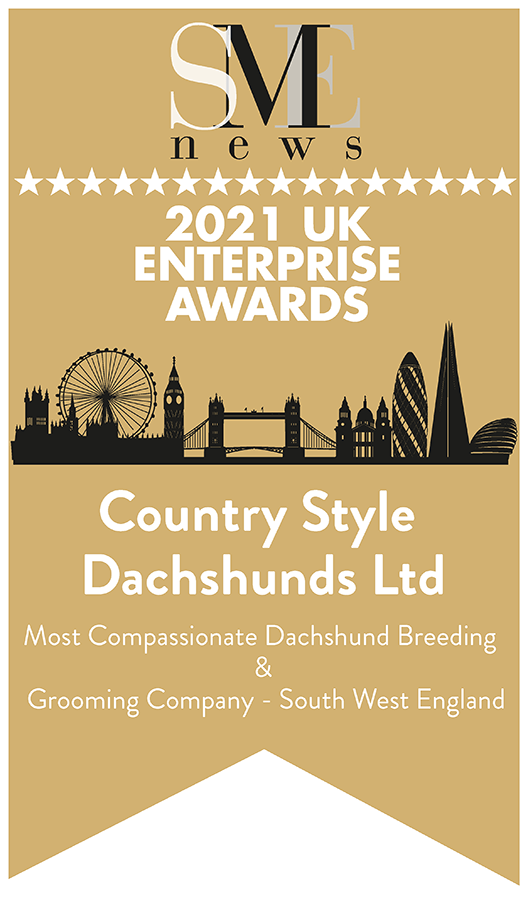 Here at Country Style Dachshunds Ltd, we have a variety of beautiful stud dogs and dams in Dorset. We are a family run business with expert knowledge, skills and experience in breeding and grooming, so you can feel peace of mind knowing that the dachshunds are very well looked after. Although we are based in Dorset, we welcome potential owners to visit our countryside home. So, why not give us a call to discuss your options? Before you do, let's get ready to meet our gorgeous dachshund studs and dams!
Meet Our Stud

Dachshund Dogs
Are you ready to meet our stud dachshund dogs? Stud dogs are male animals who are retained for breeding and the reason our pups are so healthy is because of these guys! Every stud is tested PRA clear and KC registered.
Introducing... 007 Mr Pickles
Mr Pickles is a confident, adventurous, lean, mean handsome machine! His fur colour is the unique Isabella tan which makes him stand out from the rest. He is strong, confident and loves swimming, not to mention, those big green eyes are to die for.
The full colour genetics Mr Pickles carries are the following: 
Isabella carrying Tan – ata bb dd Ee KBky SS 

2 copies of chocolate 'bb', 1 copy of cream (Ee), 2 copies of dilute – black to blue/chocolate to Isabella – (dd), KBky, (solid), 1 copy tan points, 1 copy recessive black (ata) &

   

2 copies of piebald (SS) 
A warm welcome to... Jumping Jack Flash
This little guy is famous, reigning as the UK's 2nd generation and one of the first UK-bred Isabella dapples. He is one of our newest arrivals and is very small in comparison to the rest. With a blue, chocolate and tan coat, it's hard to keep your eyes off him!
The full colour genetics Jumping Jack Flash carries are the following:
Isabella dapple – 2 copies of piebald (SS) bb SS
Wizard is our blue dapple stud dog who is very handsome, strutting around the place like he's Brad Pitt (with the same attention from the ladies). He also has a very soft and outgoing nature, which is inherited in his offspring.
The full colour genetics Wizard carries are the following:
Mr Fudge is mummy's favourite boy. A young, attractive and incredibly loving, kind and soft natured Isabella dapple stud who carries blue chocolate genes, as well as a 50% long hair gene.
The full colour genetics Mr Fudge carries are the following:
Isabella dapple carrying piebald bb & 1 copy pied (NS)
Merlin has a very soft nature like his dad, 007 Mr Pickles, and his mum, Twiggy. He's a chip off the old block who is very true to his type. This beautiful boy carries the blue gene and is an absolute joy to have around. 
The full colour genetics Merlin carries are the following:
Chocolate carrying 1 cord of blue and 2 cords of piebald & solid – Dd SS KYkb 
Bean has certainly inherited his charming characteristics from his famous dad 'Alfie', a Black and Tan dachshund who has led a very successful life as a pet model featuring as a UK group-winning show champion @ 18 months and is a TV star who appears in Vitality adverts. Bean's dad, Alfie, has 5x CC   5x RCC   5x BOB   1x G1   1x RBPIS.
Bean is an incredibly loyal, sweet and affectionate little dachshund. His playful and loving energy is infectious. Besides his big personality and being extremely handsome, he is just a joy to be around. 
Now meet our dam dachshund dogs. Same as our studs, they are retained at our home for breeding and are all tested PRA clear and KC registered.
Tinks is very special. Our original black and tan dachshund who has recently had her first litter. She is loving, caring, protective and the boss of all the other girls. With a real fire in her belly for the outdoors, Tinks often joins the spaniels to forage through the woods!
Twiggy is the second dachshund we bought and is now best of friends with Tinks! She is an incredibly happy, chocolate and tan dog who wanders into the wilderness without a care in the world!
Poppy is another one of our Isabella dapple's who carries chocolate and blue genes. At first, Poppy was shy and timid, but she has grown to become a true warrior. She is a fitness fanatic who loves adventuring and has taken a liking to one of our male Spaniels, Magic.
Pleasant, petite and pretty, Daisy is a gentle, chocolate tan dachshund with a beautiful temperament. She craves affection, loving a good cuddle, but you can also see her running around the field chasing the spaniels! Plus, she is a chatterbox – if Daisy could talk, she would do all day long. 
Totty is a naughty dachshund who brings a smile to our faces. She is confident, happy and funny, not to mention gorgeous with her Isabella and tan coat. Totty is a nuisance because when all the other dogs are in bed, Totty is nowhere to be seen. She is always outside exploring and we often find her with her head in a hole or rummaging in the bushes!
Isabella tan in colour, Treacle has taken many traits from her wonderful parents, Mr Pickles and Poppy. Treacle is a superb example of a mini dachshund. She has a short back, stocky chest, short legs and massive feet like her dad. She has the most amazing enthusiasm for life and the outdoors – Treacle loves her walks on the farm with all her other companions. This bundle of delight is an absolute gem of a dog who is a kind, honest and loving daddy's girl.
Contact Country Style Dachshunds Today
As you can see, the dachshunds we breed come from the best of the best stud dogs and dams in Dorset. Our puppies inherit almost every trait, so you can rest assured knowing that your little dachshund will be as loving, kind and adventurous as the rest. Contact Country Style Dachshunds today for information on upcoming litters.